45 Styles of Movie Star Jennifer Lawrence
Hairstyles
Jennifer Lawrence or J-Law to follow the current trend in tabloid nomenclature has become the doyenne of Hollywood in recent years as a result of several successful roles in films like The Hunger Games, X-Men, and American Hustle.
Known for long hair but sneaks into short territory for the occasional visit with equal displays of styling prowess.
In the following pictures, we can see her in a variety of designs from long and straight through curls and updo's to a ruffled pixie. She does plenty of the pouty poses that the photographers want but is also ready to give us that trademark smile that lights up her face such as the central example in the first picture block.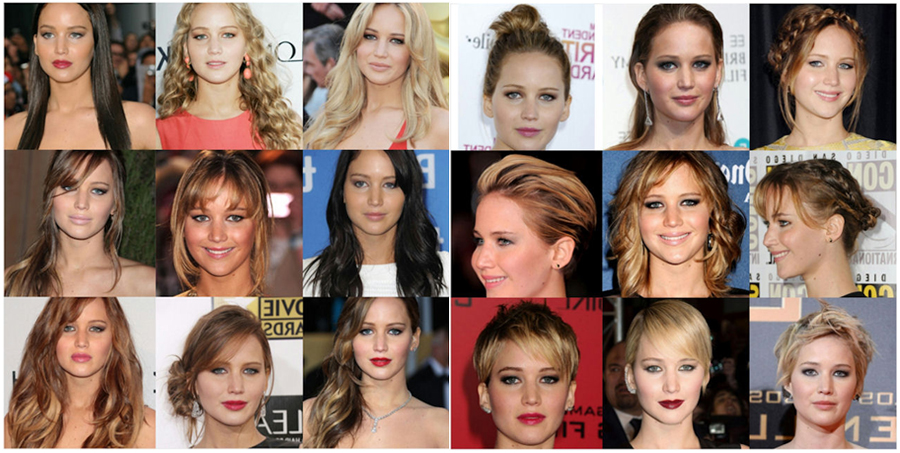 She has also sampled a range of colors over the years. Her natural color is dark blonde but as you can see she tried most colors and shades. Rumor has it Jennifer was asked to let a gang of colorists loose to experiment and get the right shade for The Hunger Games film. It's understandable she refused and they had to perfect their plans using wigs first.
Clothing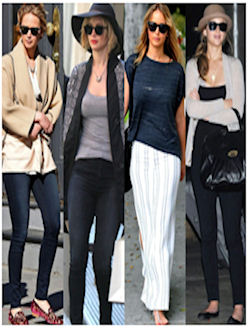 Who said you can only look stunning on the red carpet? Jennifer Lawrence sure as hell looks as delectable off it as well. The first is understated dressing, the J-Law way, a luxe coat, comfortable flats and good old skinnies. In the third, the separate jerseys look so damn comfy.
Haven't we all seen those stars strut through the airport looking like they dropped straight out of an Autumn-Winter Special magazine? But here's Jennifer Lawrence, looking so believable and relatable, with sensible flats, a cozy cardigan, and the cool hat for a twist.
Comfortable fashion
She brings her office along as she dons sharp, tailored trousers that get softened with a soft, blush blazer. After a hectic, round-the-clock awards season, she finally relaxes in a lovely ensemble, silk skirt, and a light blouse. Oh, she also shows that jumpsuits need not look like a second skin to be stunning. And how many people can pull off a burnt orange that's almost neon? She definitely can, shouts the crowd at the Monaco Grand Prix. Overall, these spell functional fashion.
A Bit of Bling
Don't let all those previous muted ensembles fool you into thinking she's adverse to a bit of bling. The splash of gems across this white Christian Dior dress and the Ralph Lauren snakeskin column dress that blended so well with her golden tan made her shimmer more than anyone else on the red carpet. She even rocks the nude shade as she graces the infamous mirror-shards dress. Also, the feathers on nude dress hit it, in spite of sounding like a disaster.
On the Red Carpet
Now, this is a divine, celestial creature. At the Golden Globes, she opted for an unusual way to go about the black-n-white combination, with two black straps accentuating her figure. The silk Alberta Ferretti gown is another story altogether, lending a goddess-like look.
And who can forget the gorgeous Academy Award pink gown by Christian Dior that hugged her curves, making her look celestial? She also gives a quirky twist to the mainstream gown as she opts for this peach number at the Rome film festival.
During her initial years at Hollywood, she opted for this stunning yet sleek Calvin Klein tank dress and ended up dwarfing every other celebrity as she became the cynosure of all eyes. The 2014 Oscars saw Jennifer looking made-for-camera in this gorgeous tomato red dress with pleated peplum. Her curves did all the talking, with the accessories kept to a minimum.
Jennifer Lawrence is also the queen of statement pieces, as she pioneers some of the most striking ensembles. The hybrid between a skirt and a trouser is at ease with her even with a crop top.
Weren't we all taught about how multiple layers destroy a look? Tell that to the leather, velvet, denim, and wool that are busy looking magnificent on her.
She can also make a cropped blazer pair up with a cute, sunny dress. She made people wake up to the fact that a cool top is not the only way to spruce up a dress by teaming up an arresting blue skirt with a plain black top.
Dress Whisperer
She's known to experiment with clothing. She's also a dress whisperer, meaning she can tame even those wild ones. These clothes have a huge probability of going wrong to the extreme especially in cases where the person isn't confident in them. But Jennifer Lawrence quashes the law of the usual. She's a bold beauty as she sports this see-through electric blue dress which can be destroyed by even the most confident people. The gold Prabal Gurung cut gown was outshined only by her assured poise. She conquered both the lacy, fire-inspired red number and the Viktor & Rolf dress, courtesy of some crafty makeup and hairdos.
She's the one that makes us believe that we can look dazzling and still be our own crazy selves. The girl loves pizza, is funny, real, and pulls some hilarious faces. She works towards spreading body acceptance and is down to earth and sensible. No wonder she's every girl's girl-crush. It's hard not to fall in love with her.