Our Top 10 Celebrity Short Hairstyles from the Year 2014
Top 10 Celebrities Flying the Flag for Shorter Locks
Nobody wears shorter hairstyles better than our very own celebrities. Here's some inspiration for your next choice or just scroll through the best trends out of interest. Here's our countdown.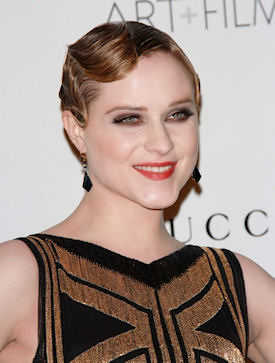 Number 10
Evan Rachel Wood combines wavy and lopped and looks stunning. Her crop is close and blunt but due to the waves and edgy bangs, there's a completely different glow. Her bangs are relatively long and wavy but don't cover her beautiful face, which is quite different and fresh considering the popularity of side sweeps, undercuts and peek-a-boo fringes.
---
Number 9
Victoria Beckham's obsession with short tresses isn't new and we've seen some uber-cool, modern hairstyles sported by this fashionista. Our favorite is her inverted bob with long bangs swept and layered around her delicate features. It frames her face so completely that we've fallen in love as much as she has.
---
Number 8
Audrey Tautou has an effortless style. The hair is dark and quite textured which gives ample density. With a side part and few choppy front edges, she managed to pull an effect that's cute, sexy and quite manageable. If you're an executive and want to give a playful shaggy feel to your boring black suit, you must try this, throw in bright tone lipstick to boot.
---
Number 7
Anne Hathaway. Oh! How much we love that pixie! It's manageable and hard to tell that it's virtue out of necessity as she chopped it all off for the film role of Fantine in Le Miserables.
---
Number 6
Emma Watson. Hermione has grown up and looks so sexy in the new layered bob. We've seen her with long locks before, but Emma Watson left us stunned with this amazing new finish. She looks more mature and womanly. So finally we can say her hairstyle has become as mature as her wonderful acting skills.
---
Going into the Top 5
Number 5
Halle Berry. When was the last time you saw her sporting long hair? This lady likes to keep it trimmed but she doesn't ignore the finish. She's often seen sporting semi-Mohawks that suit her overall outlook. No matter what the occasion, she manages to pull her soft Mohawk and we adore the way the hair blends with her dress sense. If you want a hairstyle that's no trouble or if you like to gel it up, try the Halle Berry Pixie.
---
Number 4
Pink. This powerful and rowdy rock star sure knows how to play the game. We like that she experiments and learns from her mistakes. Our personal favorite remains the undercut complemented by a contrasting wave in the middle. The wave was almost a pompadour and looked quite effortless and natural. A hint of color would make it even more awe-worthy.
---
Top 3
Number 3
Carey Mulligan makes short appear innocent and sexy at the same time. We're conditioned to think chopped hairstyles are for powerful women of age who want to look the part. Carey Mulligan proves us all wrong and sports a small bob with a scattering of layers and choppy edges.
---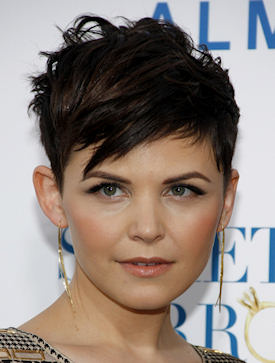 Number 2
Ginnifer Goodwin is another celebrity that proves traditional wisdom wrong. She has a round face but her super trimmed look is so awe-inspiring. There is no fringe or clutter. Thumbs up to her.
---
Number 1
Michelle Williams is one celebrity that knows exactly how to blend high-end fashion and a simple coiffure. There's nothing complicated here, cropped at the back and one side and has gone for longer, silky straight bangs on the other. The way the front edge sweeps across her forehead to come down and frame her face is a great move. Michelle Williams earns full marks on our scoreboard.