True Spirited Hairstyles For Ladies with Longer Hair
In the interest of balance, we take a look at long hair in this post
The idea of getting ready for job interviews after graduation is bad enough wearing short hair. It poses an extra predicament for those sporting longer styles. We want to appear put together, but our lengthy tresses may not be cooperating. In the case of wavy hair, decide if you want to persevere, go straighter, or give in to its curly temperament. Let's look at all three conditions and see where it takes us. It's best to choose a style that matches our features, temperament, and true spirit.
Wavy
A simple and easy style using a few bobby pins; it shows off wavy contours around the face. It looks fresh, casual, and matches the model's features.
Although some would say this is an example of curly hair, it appears wavier, or at best, a relaxed curly condition to show off one's temperament of being open and easy to work alongside. It could be a good strategy during a job interview for an individual like this. The idea is to match your style and true spirit. An honest portrayal will pay off in the end and others will most likely see you as reliable during first impressions.
---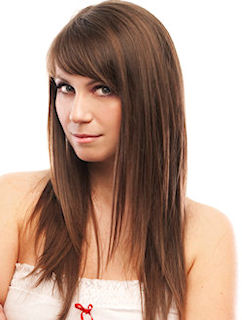 Straight
You'll need a few extra items to do this yourself. For instance, a fine-toothed comb, straightening iron, and some serum to apply to the bangs to sweep them to one side. Bangs can soften the forehead area if it's on the wide side. A very modern razor layered cut which needs to be done by a professional. In terms of that important interview, you'll come across as determined, adorable, and appeal to the general public, good for public relations.
---
Curly
For those of us with a lively lifestyle, curls can satisfy even the most active person. Perhaps you work and play outside, or at least planning that sort of career. For adventure types of interviews, you'll want to look feminine, yet capable; strong, yet intelligent. Use setting cream and small rollers, but most of us have a perm done by a professional. Whatever the means, this comes over as very active and that's what it'll say about your temperament or true spirit.
Choosing wavy, straight, or curly for long and short hair will depend on your personal temperament, lifestyle, and career choice. Having a few ideas about your internal self, or true spirit will propel you in an exciting and dynamic direction!