Short Hair Pioneers.
For the majority of history, ladies wore their tresses longer. Only the last century saw the tide turn. Cultural observers of the 1920's saw flappers rise in popularity and infamy. "Flapper" was a derogatory term but those it was intended to offend adopted and ameliorated it. Louise Brooks (top left) was the pin-up girl for the movement and possessed all the qualities of flappers in spades. The silent film star and dancer wasn't averse to the odd scandal. Considered quite scurrilous in those austere times, she still reveled in it.
The Roaring Twenties proved to be a blip in the domination of lengthy locks until the Fifties. Marilyn Monroe was more famous for medium length voluminous blonde curls. She wore it short on occasion but often still blonde and curly. Her life was brief and her death controversial but she shone brighter and few have had such an impact on popular culture.
Another megastar from the Golden Age of Hollywood is Audrey Hepburn, her unmistakable elfin features recognized globally. She's considered the mother of the pixie. It's certain she was one of the first to wear her hair cropped close but modern pixie cuts display more shape. It's arguable that Jean Seberg was the first person in the public eye to wear what would pass as a modern pixie. Her original trademark being long blonde hair but she went short for the role of Joan of Arc.
Maverick Chopped Locks.
The Sixties, Seventies, and early Eighties were times of social upheaval, style fluidity, and massive fashion faux pas. The shackles of the post-war era were off and technology allowed experimentation in music, textiles, and hairdressing. Television ownership became widespread and media culture was born. Typical young adults had disposable incomes for the first time. Leisure wasn't the preserve of the rich. Mass media driven trends became widespread and the rate of change spiraled out of control.
Woodstock, Carnaby Street, Glam rock, the rise of Punk, and the excesses of the Eighties caused huge fashion swings. Culture bounced off itself then back-lashed in other directions in rapid succession. Eyes itched when subjected to the era's appalling fashion crimes. Yet, if you didn't appreciate the look du jour, a few months later something else would arrive.
Where there's change there's innovation. Some trends during the time are subject to deserved ridicule but plenty of wheat in the chaff could be found. Find derivatives of Twiggy and Mia Farrow's pixie cuts the world over. Today you won't find many Mullets like Jane Fonda's or elaborate flicked numbers like Princess Diana's. Yet where would we be without face-framing side bangs or quiffed undercuts?
Grunge and Rebellion.
Iconic status isn't only related to popularity. Controversial, groundbreaking and memorable are suitable attributes too. Madonna is no shrinking violet and often all the above. She was more rebellious during her "Vogue" and "Erotica" periods, coinciding with her time as a platinum blonde. "True Blue" ushered in the new Madge, she lingered for a while and then vogued out in titanium pin-curls.
Sinead O'Connor, on the other hand, was born a rebel and doesn't show any sign of relenting 50 years later. Pictured here harbouring a quarter inch of fluff to prove it. Originally a defense mechanism to fend off the advances of media executives she's quoted as not feeling herself without a stubble head.
In the mid-nineties the spread of Grunge and Meg Ryan's choppy bob coincided sparking a revolution. Keri Russell got on the receiving end of a fans revolt when an amusing idea backfired. She had her trademark flowing curls chopped on the set of the second series of "Felicity" where she played the eponymous character. The drama then bombed, her curls grew back but viewers didn't. A perfect lesson in why you should try our makeover tool first, nobody wants a similar popularity decimation.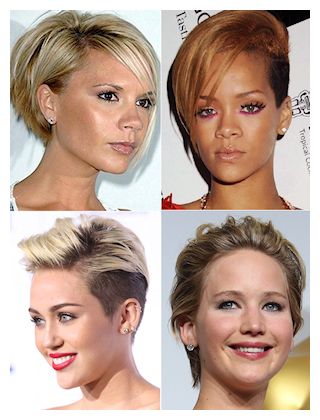 Modern Classic Cropped Haircuts.
Until the turn of the millennium, a bob haircut was a simple affair, some had bangs others didn't, that was about it. Victoria Beckham arrived and we now see inverted, A-line, stacked, and many variations. Where would a list of hairstyles be without an entry from Rihanna?? This asymmetrical undercut is one of many we could've chosen.
Miley Cyrus put us through something of an image trauma a few years ago. Shoulder length ombre gave way to peroxide quiffed under-cuts, pixie crops, and twerking.
Jennifer Lawrence provided another shock to the system by exchanging her length for that highlighted pixie with heavy bangs. In this picture, she added a little something by slicking it back.
Many of us see going short as a breakout in a new direction, a start of the next phase in life's rich tapestry. Carve a personal path through the assault course of the world of cosmetology and fashion.
Iconic doesn't need to be desirable, if we're honest some of the hairstyles in this group of sixteen are a bit rubbish, it's the wearer's beauty and status that carry the day. They are iconic because they shocked or changed what everyone else was doing and stuck in everyone consciousness.